Physicals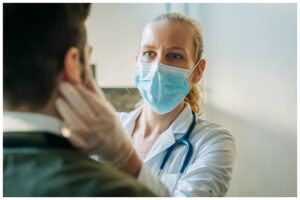 At Core Medical Center, we offer physicals for a wide variety of reasons. We provide quality healthcare services by experienced medical professionals at a fair price. For the most efficient and affordable physicals in the Blue Springs and Kansas City areas of Missouri, call us today at (816) 427-0201 . Appointments are not necessary for physicals unless a large group is planning on coming in at once. For groups, we can also come to you.
Walk-ins are welcome anytime during our regular business hours. All you need is the proper paperwork to be completed beforehand or while you are in our office. Our staff wants to make the process as streamlined as possible, so fill as much out as you can before arriving to ensure an efficient experience.
Those choosing to have a drug test may also choose to have a physical at the same time. Find out more about our drug testing options for individuals and employers.
Types of Physicals Offered at Core Medical Center
Adoption or Foster Parent Physicals
These exams are required to confirm that prospective foster parents or those seeking to adopt a child are physically and emotionally capable of being a parent.
Annual Physicals
Having regular physical examinations are an important part of a person's healthcare routine. This annual screening can help identify the earliest signs of health issues – as well as help patients manage existing chronic medical conditions like high blood pressure or diabetes.
Employment Physicals
Core Medical Center works hard to serve the community's employment physical needs. Anyone can come in for a physical for their employment, and we will handle it on the spot.
Individuals seeking an employment physical will find that coming to Core Medical Center is quick, easy, and hassle-free, so they can get back to work that much faster.
Employers seeking to build a relationship with us can set up an agreement, and we will accommodate your entire company at our office or your location, depending on the size of the group requiring a physical.
The types of employment physicals we offer at Core Medical Center include:
Pre-employment physicals
Annual current employee physicals
Daycare or child care worker physicals
Pricing
Pricing varies depending on the type of physical and the level of difficulty involved. Since employers and other types of physicals call for many different tests, each physical is subject to evaluation to determine the cost of the physical – but most will be just $30 per person.
School Physicals
If your school requires a physical, we can perform it here at the Core Medical Center office, or we can come to you for large groups.
Sports Physicals
The providers at Core Medical Center have served athletes in the Blue Springs and Kansas City areas for decades. Because of our commitment to the athletic community and to health and wellness in general, we have become the go-to health center for all sports physical needs. Last year, we performed more than 4,000 sports physicals.
Sports physicals can ensure an athlete is able to safely play a particular sport. These exams are beneficial for athletes of any caliber: those already on sports teams, those taking school PE or other physical education classes, and anyone wanting to begin a new sport or try out for a team. Having a sports physical before beginning any rigorous exercise can help prevent injury. Some teams and gym programs require sports physicals.
Pricing
We offer discounted rates for athletes of all ages. Our sports physicals are $30, whether performed in our office or at your location for a group. For schools and organizations that want to fundraise, we can charge $30 per physical and donate $5 per physical back to your organization. We will bring all the necessary sports physical forms and materials needed. Physicals at your location can be scheduled after our normal office hours and weekend.
Note: The Boy Scouts of America do not accept physicals from chiropractic offices, so we cannot provide physicals for Boy Scouts.
Are you interested in getting a physical? Contact Core Medical Center in Blue Springs, Missouri, by calling (816) 427-0201 or request your appointment now.